5 Tips For Maintaining Your Concrete Surfaces This Fall
No matter the size of a concrete surface, if you've taken the time to have it installed, you'll want to care for it. A little maintenance here and there is all it takes to have long-lasting concrete. Fulford & Jones, Inc., a Wilson, NC, ready mix concrete supplier, offers these five tips for how to maintain your concrete surfaces this fall.
Allow your concrete a fresh start to a new season. Power wash your concrete surfaces to get summer grim and debris off while using a cleaner. Plan ahead for cold weather to start coming in overnight. To prevent damage to your concrete during the colder months
try to avoid harsh solutions to weather related maintenance. Melting the ice on your concrete is important to the longevity of the concrete. However, rock salt can weaken your concrete. When the salt melts with the ice it becomes salt water. That salt water soaks into the surfaces of your concrete and refreezes. The salt in the water creates pitting in the surface of your concrete. The pressure from the frozen water inside the pitting of the concrete causes it to become rough, flaky and weak. Sand is the recommended alternative for melting ice during cold temperatures.
While cleaning off the surface of your concrete and preparing it for cold weather, check for any chipping or cracking. Once the weather becomes cold and rainy your concrete's imperfections may spread rapidly. What may look like a small problem could end up being a bigger problem throughout the cold months. It's important to repair any imperfections before they become worse. If you notice that water is pooling in certain areas of your concrete, it's a good idea to call a concrete professional to take a look at the foundation of your concrete. There may be an underlying issue that could be more serious than you think. Water pooling may also cause an issue with ice during colder weather. The pooling water will become an ice patch that can be dangerous to walk over. A concrete professional can help determine the best plan of actions for the problem.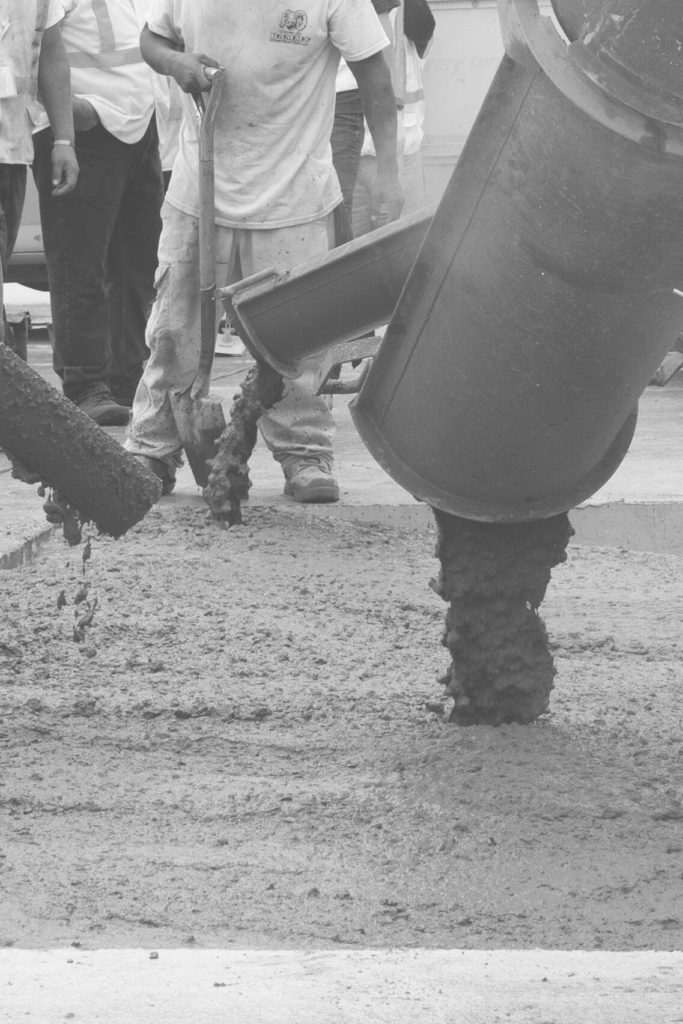 Sealing your concrete is an additional step in protecting your concrete this fall. Whether your concrete is stamped or not, sealing concrete protects it from stains and harsh chemicals. It will increase durability throughout weather related occurrences that would weaken the concrete if not sealed. Additionally, to protect your concrete this fall remove all outdoor furnishings and objects. With fall comes cold and wet weather. The combination can lead to tarnishing of outdoor furniture. If the furniture is metal it may cause rust stains on your concrete, which are hard to remove. Objects like planters and umbrellas may be blown around, knocked down or damaged during fall weather and can cause damage to the concrete. Protecting your concrete in any way you can will further the life span and decrease the need for repairs.
Keeping up with the maintenance of your concrete can be a lot. Preventative measures help ensure durability and sustainability of your concrete. When the leaves begin to drop, it is important to keep them off concrete surfaces. Wet leaves can stain and leave marks. If there are leaves left on concrete and ice occurs over top it can not only damage the concrete's surface, but produce an unpleasant smell as the ice begins to melt. Regularly keeping the surface of your concrete clean can prevent future stains, weakness and damages.
5. Talk to a Professional
Knowing what's best for your concrete isn't always easy. Concrete professionals will be able to lead you in the right direction. From cleaning solutions to concrete sealing, the professional will know what's best for your concrete. Concrete maintenance in the fall may depend on your location. Knowing the specific weather in your area will help determine the best solution for your concrete. A local concrete professional will know what works for your region and how to proceed.
Eastern North Carolina Concrete Contractor
If the concrete surfaces in and around your eastern North Carolina home or business are beyond TLC, call Fulford & Jones, Inc.! Our team of concrete experts understands the impact a concrete surface has on aesthetics and functionality. That's why we work with each customer to deliver a high-quality product to deliver years of beauty and utility. Request a project estimate from us today!