What's The Difference Between Ready Mix & On-Site Concrete?
Concrete is concrete, but the means to produce it are different. Conventional ready mix concrete, carried and placed by the prevalent barrel mixer, is widespread in use. A volumetric mixer brings the required aggregates and admixtures to the site and mixes concrete while you watch.
But is the vehicle used in production the only difference between ready mix and on-site concrete? Fulford & Jones, Inc., a concrete delivery company in eastern North Carolina, explains how the vehicle difference is only the start.
Concrete Is More Accurate With On-Site Concrete
Like many everyday products, you're accustomed to ordering and buying concrete sight unseen. Yet, the concrete placed for your project may not be the type or amount necessary. These unknowns may extend the project or increase overall costs due to repairs later on.
On-site concrete produced with a volumetric concrete mixer, such as the ones used by Fulford & Jones, Inc., is designed for precision. From the amount of water added in the mix design to the quantity of concrete placed, our mixers have a plus-minus one percent accuracy for any concrete construction.
Using A Volumetric Mixer Is More Environmentally-Friendly
Often you'll find a batch plant near residences but what isn't visible are the environmental impacts to the area. This type of concrete production creates particulate matter air pollution and diesel emissions which disperse into the air. Nearby residents exposed to this type of pollution over time may develop health issues.

Since a volumetric mixer carries a specified amount of aggregates for concrete production, the environmental and health impact reduces significantly. The mixer only runs when it's time to make concrete. And, an operator turns the truck powering the mixer on and off as necessary, decreasing diesel emissions.
Ready Mix Concrete Mixed On-Site Is Ready When You Are
Traditionally, concrete delivery hinges on the supplier's schedule, whether they're on time or not. If delayed, you face having to return the concrete to the concrete plant when it arrives or add water which dilutes the assigned mix design.

When a Fulford & Jones, Inc. volumetric concrete mixer arrives at your job site, no concrete has been mixed. Our operators don't begin mixing until your crew is ready, eliminating the need to return a hot load and delay the project.
On-site Concrete Delivery In Wilson, NC
When your next construction project needs concrete, make Fulford & Jones, Inc., in Wilson, NC, your first call. Our team understands the ins and outs, working in lock-step with you to ensure the final product goes beyond expectations. And, our volumetric concrete mixers give you the confidence the placed concrete is exactly what you ordered for the project. To schedule on-site concrete delivery in Wilson, NC, and surrounding areas, call Fulford & Jones, Inc. today!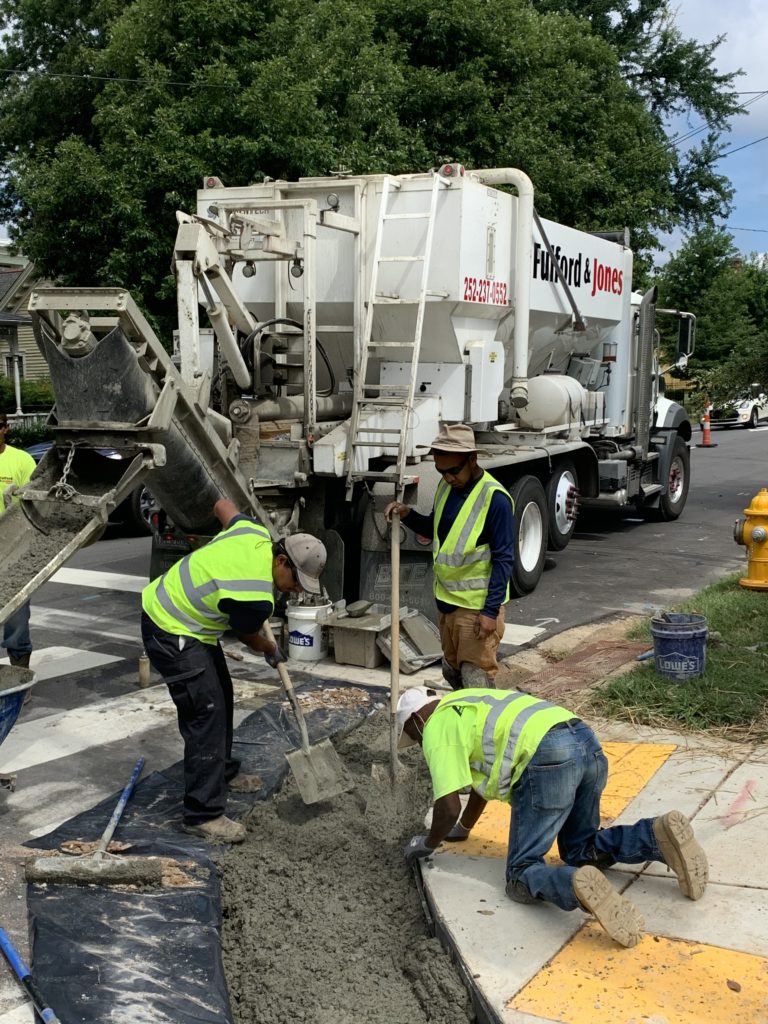 Your First Call For
Quality Concrete
Whether your next project needs bulk concrete or a small amount of concrete, make Fulford & Jones, Inc. your first call in Wilson, NC, and surrounding areas.