Plan Hardscaping With Concrete In North Carolina
Planning the landscaping of your residential or commercial property can be a big task. Landscaping requires a balance of the elements, natural and man-made. Thinking ahead of the game can help prevent wasting time and money. 
In this article, we will discuss what hardscaping is, the benefits, and why you should plan hardscaping with concrete. 
To learn more about hardscaping concrete solutions and get an estimate today, check out our services page to see what we can do for you.
Hardscaping is a man-made structure within a landscaping design made of materials like concrete, brick, wood, stone, or gravel. Examples of hardscaping would be; driveways, patios, fireplaces, walkways, etc. It is any solid structure in an outdoor area that is not natural such as plants, grass, or trees. On the flip side, softscaping is the natural elements such as grass, flowers, plants, or trees.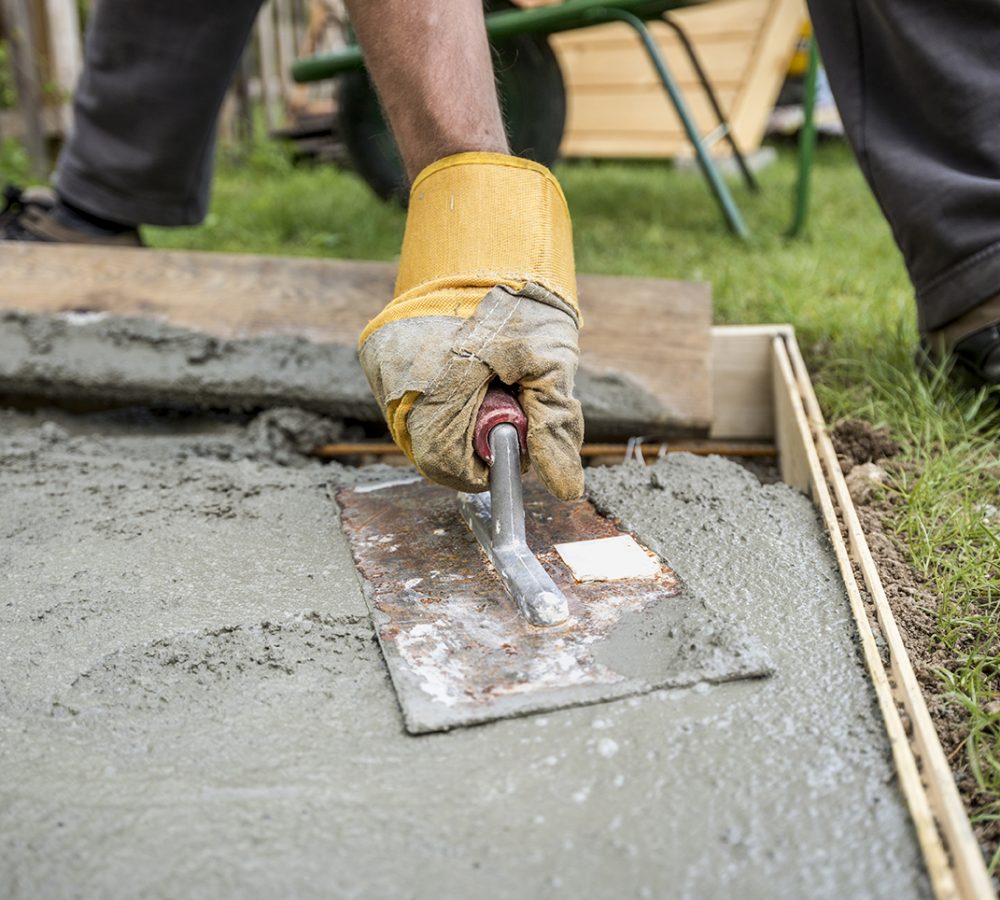 What Are The Benefits Of Hardscaping?
One of the many benefits of hardscaping is curb appeal. Adding hardscaping to your home or business front gives the appeal of clean lines, solid structure, and general care of your property. It also raises the worth of your property by 150 percent. When done correctly, hardscaping with softscaping provides balance and appeal across your property. 
What Kind Of Hardscaping Can Be Done With Concrete?
There are many ways you can use concrete in hardscaping. From driveways, sidewalks, and walkways to patios, firepits, and retaining walls. Each piece of hardscaping adds value to the next when planned correctly. Concrete provides a solid structure across your landscaping that will hold longer than other hardscaping materials.
Driveways or parking lots provide an access point from the street to your property. Sidewalks and walkways provide a space to travel across your property. Patios and firepits give the space entertainment value. Retaining walls help elevate softscaping and the flow of water deposits. Stamped concrete is one way to bring your concrete up to the next level, adding texture to an area. Making sure there is a flow within hardscaping is critical to the finished outcome of our property. 
Planning Hardscaping & Softscaping Together Saves Time & Money
Planning hardscaping and softscaping together is key to developing a cohesive design. Not only does it look beautiful and functional, but it also saves time and money. Hardscaping adds balance to softscaping and vice versa. If there is too much of one or the other it can hurt the space. Planning helps find the right balance between the two. When you put the two in perspective, you know the impact one may have on the other. For example, if you are planning to have a driveway installed you can use the time it would take to be completed to work on the softscaping elements in your plan. To save your valuable time and money, plan your hardscaping and softscaping together as one. It will limit the chance of mistakes, give your company a hard deadline, and look into the perspective of cost.
Eastern North Carolina Asphalt Contractor
When your next construction project needs concrete, make Fulford & Jones, Inc. your first choice. Our experienced concrete team can help you decide what type of concrete is right for the project and answer other questions you may have. Request an estimate today!